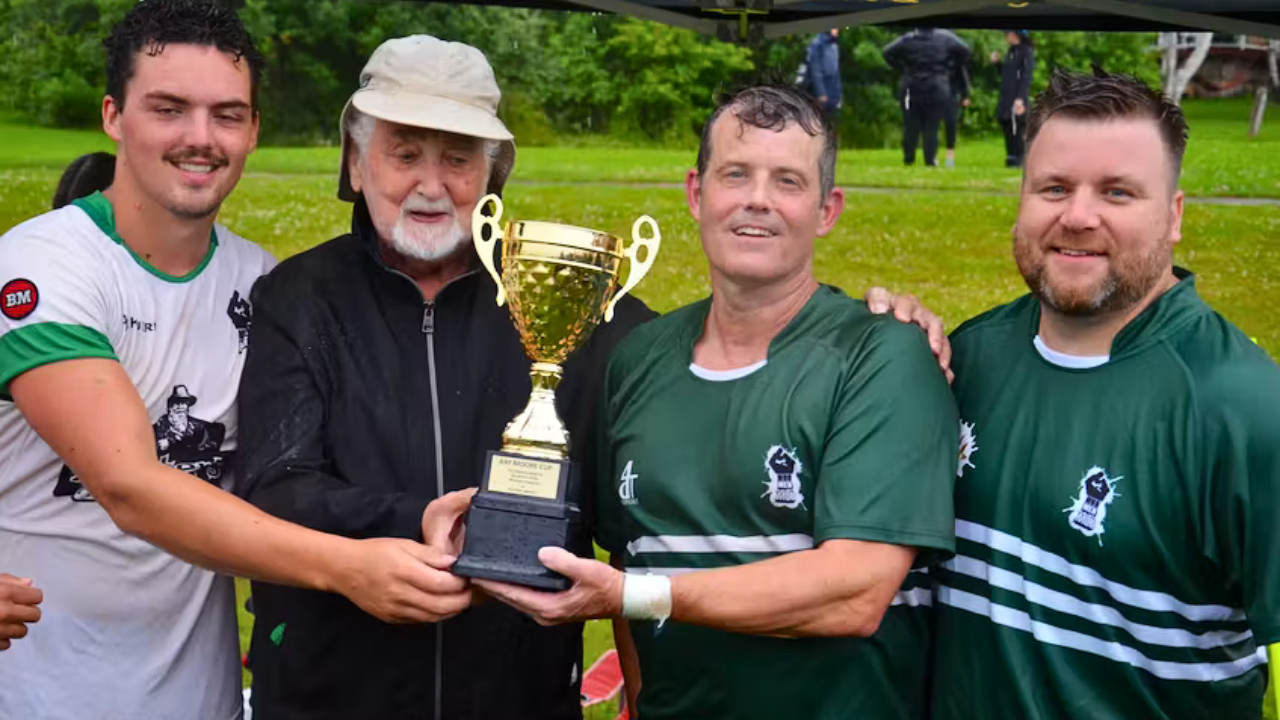 CRFC honours contributions of P.E.I. rugby builder Ray Moore
CHARLOTTETOWN, P.E.I. — It was much more than a rugby game.
The Charlottetown Rugby Football Club held its annual Ray Moore Cup exhibition game featuring the P.E.I. Mudmen Legends versus the Prospects at the Co-op Field in Charlottetown.
"It's a big thrill for me to have this played in my honour," Moore told SaltWire in an interview following the game. "I've known many of these young people for a long time, even some of them for the last 40, 45 years. I've had them on rugby teams for years and years and years and I love them dearly.
"The sport has given so much to me that I'm glad to be able to give a little bit back."
Moore, who resides in Charlottetown, played rugby in Ireland. When he came to P.E.I. in 1976, there was no rugby being played here, so Moore restarted a rugby program in the province in 1977.
"It was a long hard struggle to get it into the schools because all the gym teachers said we don't know any rugby; we've never played this game before," said Moore, who received help from rugby officials in New Brunswick and Nova Scotia who would come to P.E.I. to run clinics.
"We put some money into it to get it established, and our kids would also go to workshops in Nova Scotia and New Brunswick," said Moore, who is 82. "Eventually, once we got it in the schools, the kids enjoyed playing it. If the kids enjoy playing a sport, they will play it. You can't make them play a sport."
Contributor
Blake Doyle, who helped organize the game and the Legends team, said the trophy is designed to acknowledge Moore's contributions to the sport over many years.
"He was a coach, and I think other people have mentioned he even paid for teams to travel," said Doyle. "He's always been a really consistent contributor to the game as an advocate, sponsor and promoter."
Despite the game being played on a windy and rainy night, a good crowd turned out.
"It's been part of my life for 50 years," said Moore. "I regard all these young people as my friends."
Moore, who enjoyed lots of interaction with players on both teams, watched the game with family members and friends under a tent. The game, which the Legends team won 12-10, featured approximately 50 players from across the province.
"The interesting thing is some of these young players wouldn't know Ray, but the concept of this trophy and the annual game we play is really a testament to Ray's contributions and spirit," said Doyle.
Moore is thrilled to see the sport of rugby flourishing on P.E.I. Along with the CRFC, Moore noted there are strong and growing programs in the high schools and at Holland College and UPEI, which will host the U Sports women's championship in November 2024.
"I've known many of these young people for a long time, even some of them for the last 40, 45 years. I've had them on rugby teams for years and years and years and I love them dearly." – Ray Moore
---
Inspiration
"Ray's always been a big supporter of the Mudmen and the growth and resurgence the sport has had in recent years," said Doyle.
Tim Hockin played on the Legends team and coaches the P.E.I. School Athletic Association-champion Three Oaks Senior High School AAA girls' team from Summerside.
Hockin, who also coaches with the provincial program in the summer, recalled Moore sitting on the Three Oaks bench and chatting with the players during a playoff game at Bluefield High School in Hampshire a few years ago,
"He's been an inspiration, he's been a legend, he's been a founding father of sorts," said Hockin. "He came over in the late '70s and at that time rugby wasn't really popular and he started to reinspire it."
Hockin said Moore's fingerprints are all over P.E.I. rugby.
"Pretty much any coach who coaches right now was probably coached by someone 20 years who would have played on that original Abbies' team for Ray Moore," said Hockin. "He's kind of like a godfather. Everything stems back to him, and he's extremely important to the Island for sure."
---
Jason Simmonds is a sports editor with SaltWire in Prince Edward Island. He can be reached by email at jason.simmonds@theguardian.pe.ca and followed on Twitter @JpsportsJason.