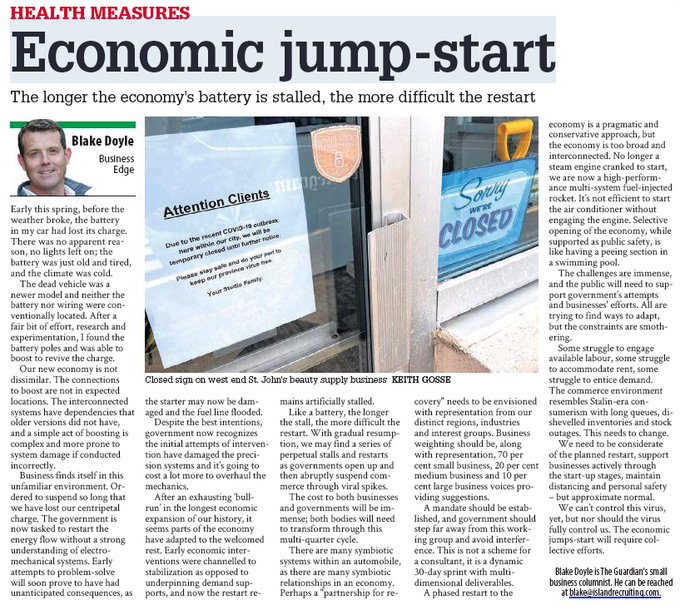 Early this Spring, before the weather broke, the battery in my auto had lost its charge. There was no apparent reason, no lights left on; the battery was just old and tired, and the climate was cold.
The dead vehicle was a newer model and neither the battery nor wiring were conventionally located. After a fair bit of effort, research and experimentation I found the battery poles and was able to boost to revive the charge.
Our new economy is not dissimilar. The connections to boost are not in expected locations. The interconnected systems have dependencies that older versions did not have, and a simple act of boosting is complex and more prone to system damage if conducted incorrectly.
Business finds itself in this unfamiliar environment. Ordered to suspend so long that we have lost our centripetal charge. Government are now tasked to restart the energy flow without a strong understanding of electro-mechanical systems. Early attempts to problem solve will soon prove to have had unanticipated consequences, as the starter may now be damaged and the fuel line flooded.
Despite the best of intentions, government now recognize the initial attempts of intervention have damaged the precision systems and it's going to cost a lot more to overhaul the mechanics.
After an exhausting 'bull-run' in the longest economic expansion of our history, it seems parts of the economy have adapted to the welcomed rest. Early economic interventions were channeled to stabilization as opposed to underpinning demand supports; and now the restart remains artificially stalled.
Like a battery, the longer the stall, the more difficult the restart. With gradual resumption, we may find a series of perpetual stalls and restarts as governments open up and then abruptly suspend commerce through viral spikes. The cost to both businesses and governments will be immense; both bodies will need to transform through this multi-quarter cycle.
There are many symbiotic systems within an automobile, as there are many symbiotic relationships in an economy. Perhaps a 'Partnership for Recovery' needs to be envisioned with representation from our distinct regions, industries and interest groups. Business weighting should be along representation 70% small business, 20% medium business and 10% large business-voices providing suggestions. A mandate should be established, and government should step faraway from this working group and avoid interference. This is not a scheme for a consultant, it is a dynamic 30-day sprint with multidimensional deliverables.
A phased restart to the economy is a pragmatic and conservative approach; but the economy is too broad and interconnected. No longer a steam engine cranked to start, we are now a high-performance multi-system fuel-injected rocket. It's not efficient to start the air conditioner without engaging the engine. Selective opening of the economy, while supported as public safety, is like having a peeing section in a pool.
The challenges are immense, and the public will need to support government's attempts and businesses efforts. All are trying to find ways to adapt; but the constraints are smothering.
Some struggle to engage available labour, some struggle to accommodate rent, some struggle to entice demand. The commerce environment resembles Stalin era consumerism with long queues, dishevelled inventories and stock outages. This needs to change.
We need to be considerate of the planned restart, support businesses actively through the start-up stages, maintain distancing and personal safety – but approximate normal. We can't control this virus, yet, but nor should the virus fully control us. The economic jumps-start will require collective efforts.
Blake Doyle, Business Edge
As seen in the May 2nd, 2020 edition of the PEI Guardian Newspaper.