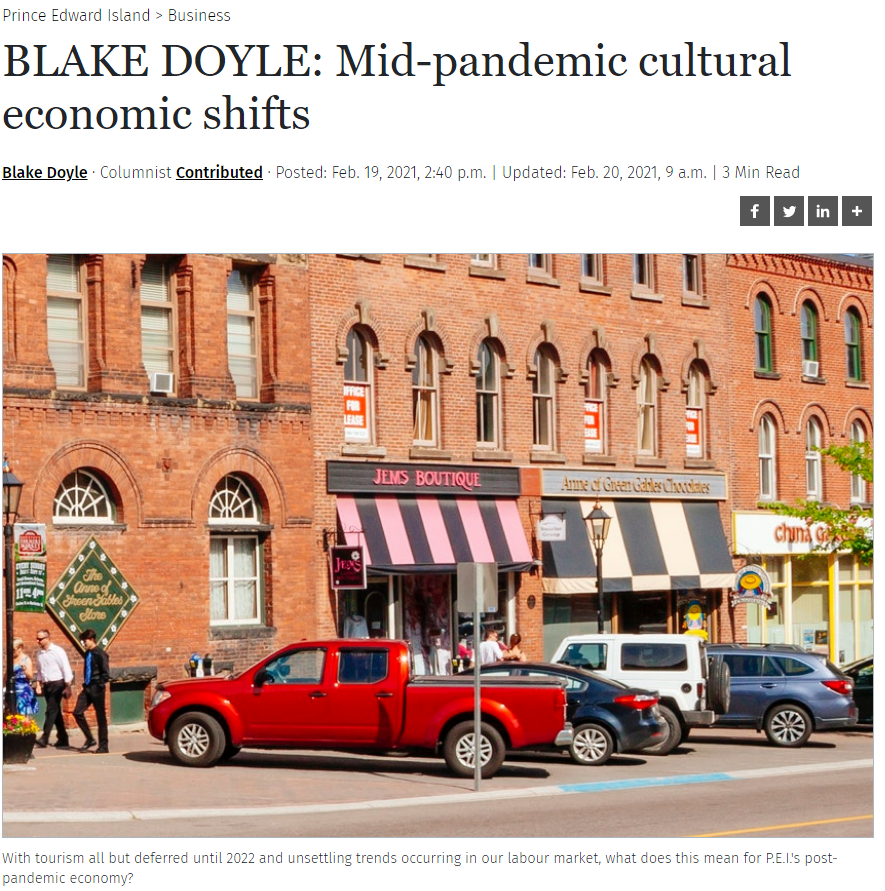 Mid-pandemic cultural economic shifts
2021 was the optimistic window of economic recovery, with an assured mass vaccination program and an imagined return to normalcy. As with previous pandemics once confidence was restored the economy boomed; but enthusiasm seems deferred until much later this year or into 2022.
Government investments have been far more prevalent through this crisis than any preceding, there are those that are starting to argue the supports have been too liberal and now must be tapered.
Vaccine procurement and distribution have been abysmally delayed domestically (according to current Oxford data Canada has distributed 3.52 single doses per 100 people, Israel has distributed 79.48, and even the US have distributed 17 per 100 persons).  Early vaccines are complicated to move across the vastness of our large country, but is our effectiveness more a reflection of Canada's diminishing global positioning?
Locally, has PEI become a beacon for health management or have we "jumped the shark" in our irrational vigilance and fear of the outside community? Can an economy 99% dependent on external factors ever thrive in post pandemic/ rolling variant environment? Has our cultural attitude shifted so profoundly that a return to 2019 is no longer an aspiration?
By casual observation, any street in our urban settings remain about 30% occupied by vehicles. The loss of traffic has not diminished the voracity of meter-hornets trying to make up for lost meter revenue, but the decline in traffic volume is concerning for urban small business owners.
Equally perplexing is the consistent swell of volumes in the evenings and weekends. The casual policy decisions to force public employees to work from home has not only impacted productivity but decimated downtown retail and service trades shifting energy to post workday evening socialization and food services. Is this positive, or negative, or just a shift we need to recognize and adapt to?
With tourism all but deferred until 2022 and unsettling trends occurring in our labour market can the economy absorb job seekers if the volume of local employment options is diminishing. US jobless claims are exceeding estimates, labour participation rates in Summerside and Charlottetown are declining as people opt out of the workforce and the CERB/ EI benefits will be expiring in the coming quarter. All pointing to structural labour challenges.
2020/2021 business profits will hold a key to forecast trending. Pandemic impacts coupled with misaligned Federal government taxation policies have stripped business from incentive to invest, almost certainly ushering a period of business stagnation. Declining investment will signal decline in growth and cascade any challenges presenting in the labour force.
So where are the opportunities. Relying on the multiplication factors of local expenditure investment will not satisfy the economy or provincial government expenditures. We require the infusion of capital and people.
This week the Federal government, remaining committed to their immigration targets made a surprise move to approve 6 times the number of Express Entry applicants in a single period. This is great if our province has a strong retention strategy, if not it may signal a concern for local businesses relying on foreign labour.
The economy is starving for economic stewardship. Not unscheduled press junkets to relay irrelevant information but the articulation of a plan, actions for recovery and a path to empower economic drivers and regain control of our economic future.
We can't control the movement of a corona virus, as we can't administer 'the cold'; but we do need to return to a functional adaptive economy. As spring warms the air – so to does enthusiasm for employment, activity and profits.
Author: Blake Doyle, Feb 2021.
Read this Business Edge in the Guardian.